Espressif Systems presents ESP32-H2
2023-09-13
ESP32-H2 is the first ever Espressif, Wireless SoC without Wi-Fi communication. This means that it is a leading chip that fits into most of today's short-range wireless applications with 'low-power' requirements. The chip integrates the most important connectivity technologies for these applications : Bluetooth 5.0 (point-to-point, broadcast, mesh and communication with a mobile device), as well as IEEE 802.15.4, Thread and Zigbee. For the latter standards, the chip has been tested and certified for compatibility and interoperability with market-leading, reference Thread implementations. In addition, the ESP32-H2 has been certified as a "Zigbee-Compliant Platform," according to the corresponding certificate issued by the CSA (Connectivity Standards Alliance).
The combined availability of IEEE 802.15.4 and Bluetooth LE connectivity enables building devices for the Matter protocol, which intends to bring interoperability for smart-home devices. With ESP32-H2 and other SoCs in its portfolio, Espressif can offer the full spectrum of Matter protocol solutions for end-products with Wi-Fi or Thread connectivity, as well as for border router implementations using a combination of SoCs.
ESP32-H2 has a single-core, 32-bit RISC-V microcontroller that can be clocked up to 96 MHz. It has a 256 KB SRAM and works with external flash. It has 26 programmable GPIOs with support for ADC, SPI, UART, I2C, I2S, RMT, GDMA and PWM. ESP32-H2 continues to facilitate building secure connected devices through hardware security features such as ECC-based secure boot, AES-128/256-XTS-based flash encryption, digital signature and an HMAC peripheral for identity protection, as well as cryptographic accelerators for improved performance.
Block Diagram of ESP32-H2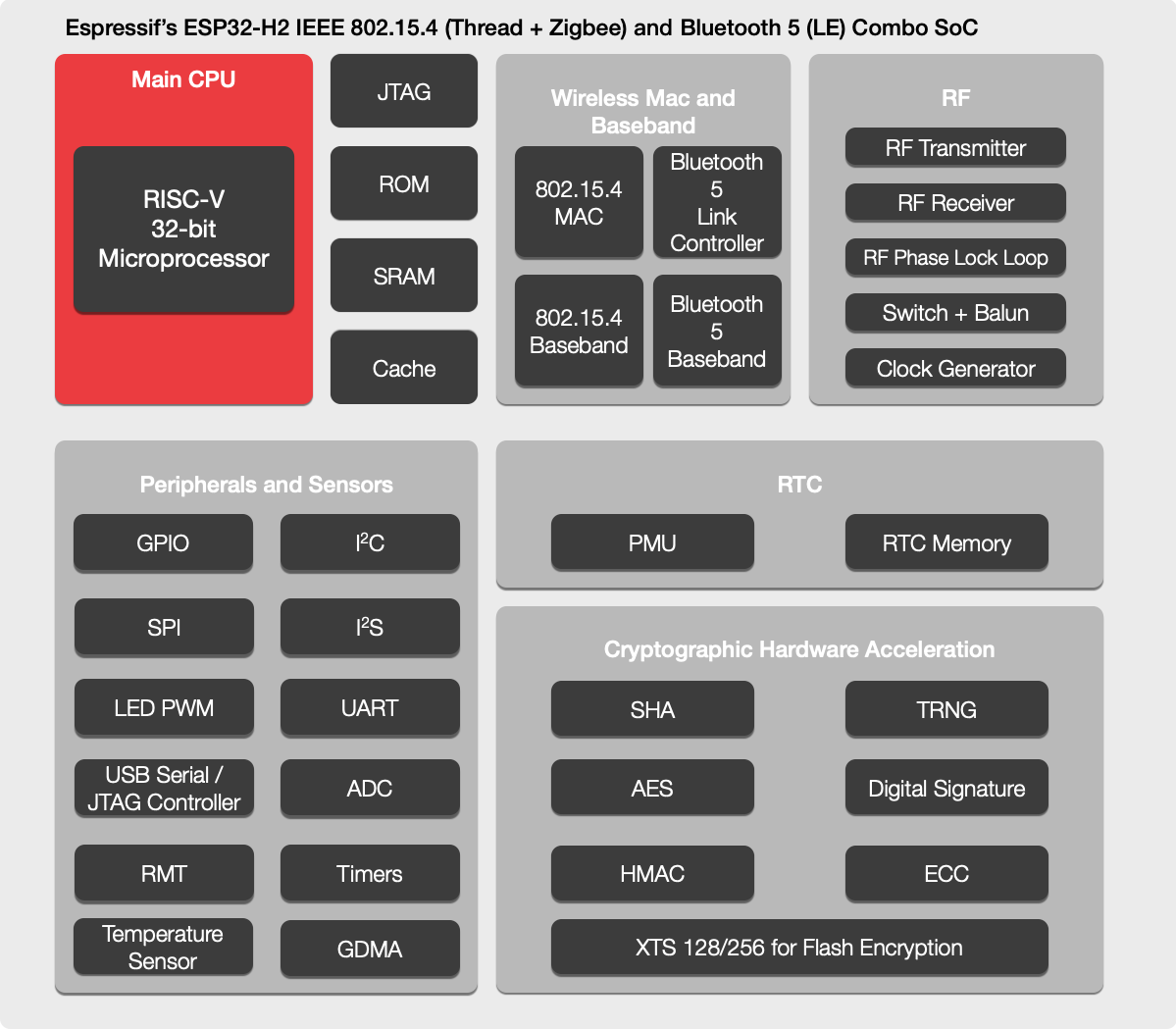 ESP32-H2 will support Thread version 1.x and Zigbee 3.x. Espressif, as an active CSA member, will continue to develop and support the Matter protocol on ESP32-H2 as long as the standard continues to evolve. It is worth mentioning that ESP32-H2 is supported by Espressif's mature IoT Development Framework (ESP-IDF), which has added a Thread SDK to help users easily develop ESP32-H2 applications. In this way, our customers will benefit from the familiarity of our field-proven platform, which is already powering millions of connected devices. Espressif Matter/Zigbee/Bluetooth LE SDKs have also been completed. To obtain them, users should contact the Espressif support team.
Espressif, as a company with numerous certifications for its own products, is well aware of their importance to international sales. By sharing this experience with their corporate customers, they can provide them with the necessary support to obtain various certifications for their own products. In fact, they have an established certification support program that includes, among others, Wi-Fi CERTIFIED™, Bluetooth SIG, CSA, Thread Group, SRRC, FCC, CE, TELEC, KCC, NCC, IC, RoHS, REACH, etc.
.