Tibbo
( number of products:

112

)
Founded in 2001, Taiwan-based company Tibbo Technology was one of the pioneers in the development of Serial-over-IP (Sol) controllers, modules and related PC software. Tibbo products are guided by the idea of simplifying and accelerating the possibilities of creating IoT devices and automation. Currently, Tibbo Technology focuses on the design, production and sale of programmable IoT modules, boards and controllers for the Internet of Things (IoT), Industrial Internet of Things (IIoT) and automation applications.
TPS without an enclosure
The result of taking this direction is TPS - Tibbo Project System - a modular system offering unsurpassed configurability. All you need is a TPP board (Tibbo Project PCB), connecting selected Tibbits, and packing the whole thing in a TPB (Tibbo Project Box) housing. In this way, we obtain a device that fulfills IoT, automation or control functions, without unnecessary hardware. Available in Tibbo OS (TiOS) and Linux versions, as well as in two sizes, each TPP board contains a processor, memory, an Ethernet port, status LEDs, and several slots for Tibbit modules and connectors. The boards do not have a built-in power supply - they directly accept only regulated +5V power supply. Real-world power conversion - such as 12V, 24V and PoE - is achieved by adding a Tibbits power supply. Tibbits are blocks of ready-made I/O functions placed in brightly colored rectangular housings. They are divided into modules and connectors. In terms of the case, the brilliant feature of the TPB is that Tibbit connectors form its two sides. This eliminates one huge problem associated with small-batch production - the need to drill holes in ready-made housings. The result is a neat, professional-looking case every time, even for single-piece production quantity projects.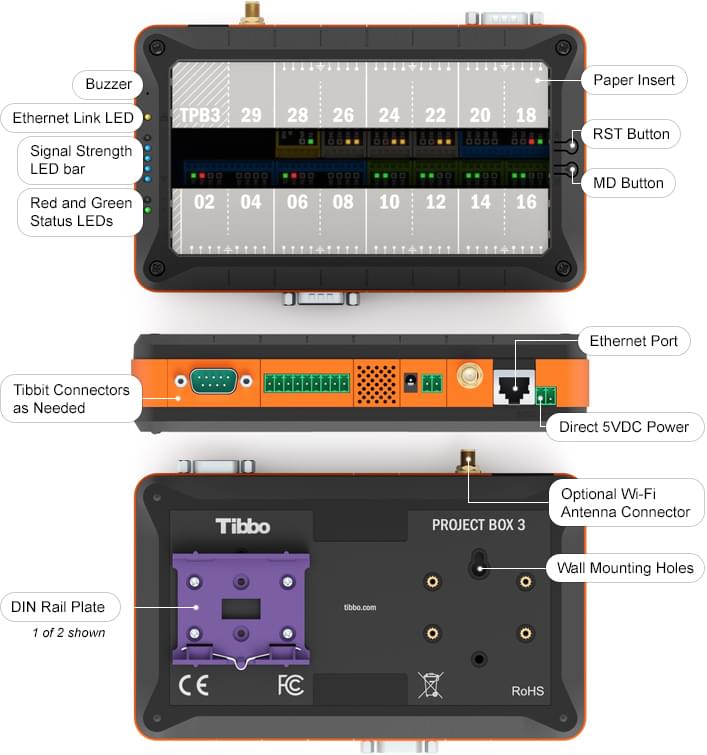 The No-Code Application
The AppBlocks is Browser-based and cross-platform

No code writing necessary -- define your application's logic by drawing flow diagrams

Debug your applications directly in the browser

The generated code is yours to download and keep